Inspirational Christmas Quotes – Christmas is probably the most wonder season of every year that passes by. To usher you into this years Christmas, we have put together some of the best inspirational Christmas quotes that will get you into the xmas spirit.
Follow us for more inspiring Christmas posts:
Each of these quotes from known and popular peoples including movies can be sent to friends and family during this festive season. When it comes to the Christmas period, love rules the day. Irrespective of each individual tradition, one thing is certain, gifts will be wrapped, families will gather together to celebrate as one, father Santa will drop-by with presents etc.
Inspirational Christmas Quotes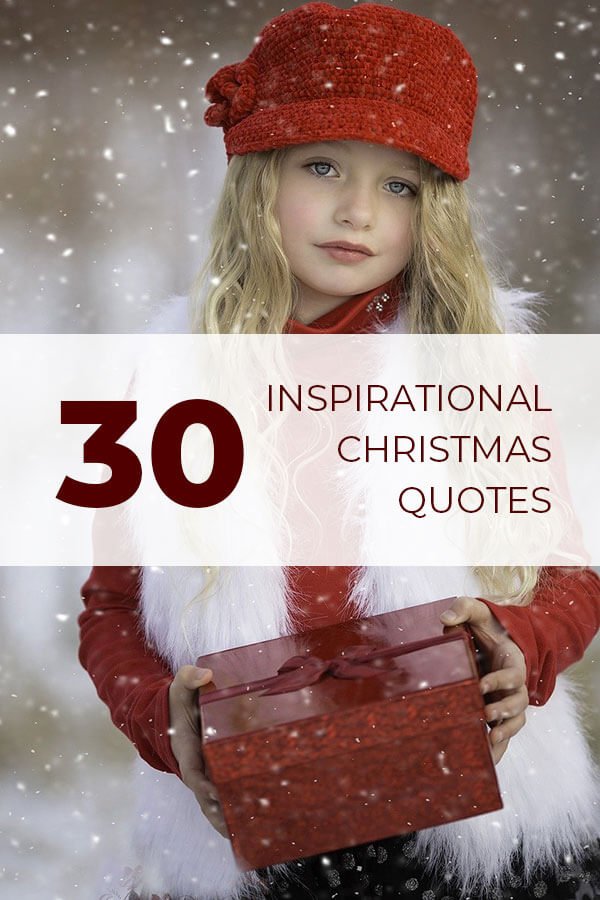 One quote that will always stand out to me is:
"Peace on earth will come to stay, When we live Christmas every day." – Helen Steiner Rice
While busy watching Christmas movies with friends and family, cooking Christmas recipe, baking Christmas pudding, or even decorating your Christmas tree, don't forget to share some of these quotes with them.
#1
"Let us keep Christmas beautiful without a thought of greed." –Ann Garnett Schultz
#2
"Christmas isn't a season. It's a feeling." –Edna Ferber
#3
"One of the most glorious messes in the world is the mess created in the living room on Christmas Day. Don't clean it up too quickly." –Andy Rooney
#4
"We are better throughout the year for having, in spirit, become a child again at Christmastime." –Laura Ingalls Wilder
#5
"Christmas now surrounds us, Happiness is everywhere. Our hands are busy with many tasks as carols fill the air." –Shirley Sallay
#6
"He who has not Christmas in his heart will never find it under a tree." –Roy L. Smith
#7
"Christmas waves a magic wand over this world, and behold, everything is softer and more beautiful." –Norman Vincent Peale
#8
"My idea of Christmas, whether old-fashioned or modern, is very simple: loving others." –Bob Hope
#9
"Christmas is a necessity. There has to be at least one day of the year to remind us that we're here for something else besides ourselves." –Eric Sevareid
#10
"Gifts of time and love are surely the basic ingredients of a truly merry Christmas." –Peg Bracken
#11
"At Christmas, all roads lead home." –Marjorie Holmes
#12
"Christmas is a season for kindling the fire for hospitality in the hall, the genial flame of charity in the heart." –Washington Irving
#13
"A good conscience is a continual Christmas." –Benjamin Franklin
#14
"Christmas is a day of meaning and traditions, a special day spent in the warm circle of family and friends." –Margaret Thatcher
#15
"Oh the weather outside is frightful, But the fire is so delightful, And since we've no place to go, Let it snow, let it snow, let it snow." –Let it Snow
#16
"Christmas is a bridge. We need bridges as the river of time flows past. Today's Christmas should mean creating happy hours for tomorrow and reliving those of yesterday." –Gladys Taber
#17
"The best way to spread Christmas cheer is singing loud for all to hear." –Will Ferrell, 'Elf'
#18
"Christmas is forever, not for just one day. For loving, sharing, giving, are not to put away." –Norman Wesley Brooks
#19
"God never gives someone a gift they are not capable of receiving. If He gives us the gift of Christmas, it is because we all have the ability to understand and receive it." –Pope Francis
#20
"Christmas is a tonic for our souls. It moves us to think of others rather than of ourselves. It directs our thoughts to giving." –B.C. Forbes
#21
"City sidewalks, Busy sidewalks, Dressed in holiday style, In the air, There's a feeling Of Christmas…" –Silver Bells
#22
"Christmas gives us an opportunity to pause and reflect on the important things around us." –David Cameron
#23
"Peace on earth will come to stay, when we live Christmas every day." –Helen Steiner Rice
#24
"Christmas is like candy; it slowly melts in your mouth sweetening every taste bud, making you wish it could last forever." –Richelle E. Goodrich
#25
"Just remember, the true spirit of Christmas lies in your heart." –The Polar Express
#26
"Christmas will always be as long as we stand heart to heart and hand in hand." –Dr. Seuss
#27
"It's the most wonderful time of the year!" –Edward Pola and George Wyle
#28
"Christmas is a season not only of rejoicing but of reflection." –Winston Churchill
#29
"The Christmas spirit is a spirit of giving and forgiving." –James Cash Penney
#30
"Unless we make Christmas an occasion to share our blessings, all the snow in Alaska won't make it white." –Bing Crosby