In this post, we will be looking at 18+ wonderful names of God in the bible and the corresponding bible verse. The meaning of each names of God tells you a lot about who God is and why we must all draw near to Him everyday of our life.
Names Of God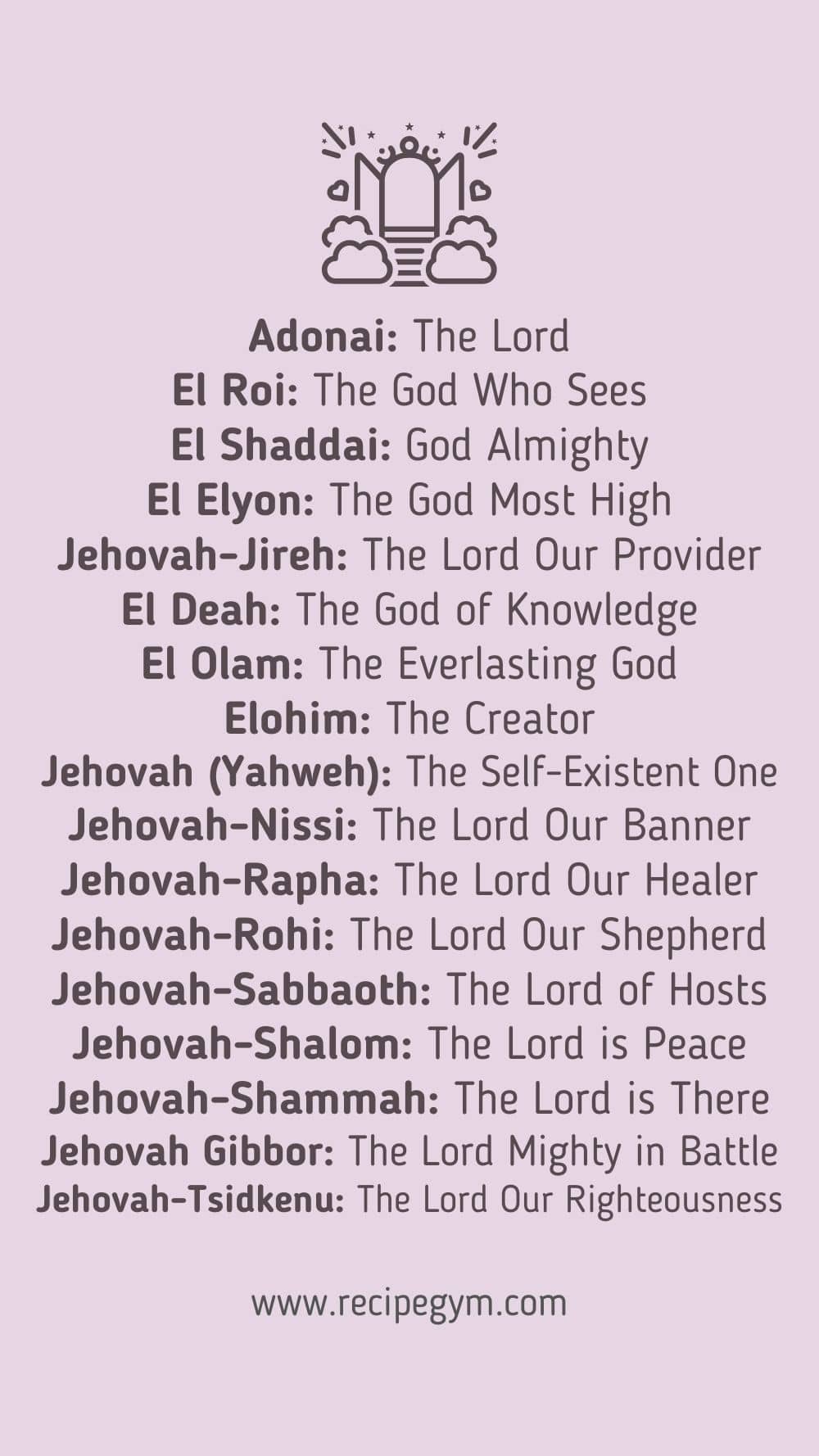 Other motivational and inspiring quotes
1. Adonai
Meaning: Lord, Master
Bible Verse: Genesis 15:2 (NKJV) – "But Abram said, Lord God [Adonai], what will You give me, seeing I go childless, and the heir of my house is Eliezer of Damascus?"
2. El Elyon
Meaning: The God Most High
Bible Verse: Genesis 14:20 (NKJV) – "And blessed be God Most High [El Elyon], Who has delivered your enemies into your hand." And he gave him a tithe of all.
3. Jehovah Shammah
Meaning: The Lord is There
Bible Verse: Ezekiel 48:35 (NKJV) – "All the way around shall be eighteen thousand cubits; and the name of the city from that day shall be: THE LORD IS THERE."
4. El Shaddai
Meaning: God Almighty
Bible Verse: Genesis 17:1 (NKJV) – "When Abram was ninety-nine years old, the Lord appeared to Abram and said to him, I am Almighty God; walk before Me and be blameless."
5. Jehovah Sabbaoth
Meaning: The Lord of Hosts
Bible Verse: 1 Samuel 1:3 (NKJV) – "This man went up from his city yearly to worship and sacrifice to the Lord of hosts in Shiloh. Also the two sons of Eli, Hophni and Phinehas, the priests of the Lord, were there."
6. El Roi
Meaning: The God Who Sees
Bible Verse: Genesis 16:13-14 (NKJV) – "Then she called the name of the LORD who spoke to her, You-Are-the-God-Who-Sees; for she said, Have I also here seen Him who sees me? Therefore the well was called Beer Lahai Roi; observe, it is between Kadesh and Bered."
7. Elohim
Meaning: The Creator
Bible Verse: Exodus 20:7 (NKJV) – "You shall not take the name of the Lord your God in vain, for the Lord will not hold him guiltless who takes His name in vain."
8. Yahweh
Meaning: Lord, Jehovah
Bible Verse: Leviticus 19:2 (NKJV) – "Speak to all the congregation of the children of Israel, and say to them: You shall be holy, for I the Lord your God am holy."
9. Jehovah Mekoddishkem
Meaning: The Lord Who Sanctifies You
Bible Verse: Exodus 31:13 (NKJV) – "Speak also to the children of Israel, saying: Surely My Sabbaths you shall keep, for it is a sign between Me and you throughout your generations, that you may know that I am the Lord who sanctifies you."
10. Qanna
Meaning: Jealous
Bible Verse: Exodus 20:5 (NKJV) – "you shall not bow down to them nor serve them. For I, the Lord your God, am a jealous God, visiting the iniquity of the fathers upon the children to the third and fourth generations of those who hate Me."
11. El-Gibhor
Meaning: The Mighty God
Bible Verse: Isaiah 9:6 (NKJV) – "For unto us a Child is born, Unto us a Son is given; And the government will be upon His shoulder. And His name will be called Wonderful, Counselor, Mighty God, Everlasting Father, Prince of Peace."
12. Jehovah Jireh
Meaning: The Lord Our Provider
Bible Verse: Genesis 22:14 (NKJV) – "And Abraham called the name of the place, The-Lord-Will-Provide; as it is said to this day, In the Mount of the Lord it shall be provided."
13. Jehovah Nissi
Meaning: The Lord Our Banner
Bible Verse: Exodus 17:15 (NKJV) – "And Moses built an altar and called its name, The-Lord-Is-My-Banner."
14. Jehovah Rapha
Meaning: The Lord Our Healer
Bible Verse: Psalm 30:2 (NKJV) – "O Lord my God, I cried out to You, And You healed me."
15. Jehovah Raah
Meaning: The Lord Is My Shepherd
Bible Verse: Psalm 23:1 (NKJV) – "The Lord is my shepherd; I shall not want."
16. El Olam
Meaning: The Everlasting God
Bible Verse: Genesis 21:33 (NKJV) – "Then Abraham planted a tamarisk tree in Beersheba, and there called on the name of the Lord, the Everlasting God."
17. Jehovah Shalom
Meaning: The Lord is Peace
Bible Verse: Judges 6:24 (NKJV) – "So Gideon built an altar there to the Lord, and called it The-Lord-Is-Peace. To this day it is still in Ophrah of the Abiezrites."
18. Jehovah Tsidkenu
Meaning: The Lord Our Righteousness
Bible Verse: Jeremiah 23:6 (NKJV) – "In His days Judah will be saved, and Israel will dwell safely; Now this is His name by which He will be called: THE LORD OUR RIGHTEOUSNESS."
19. Attiyq Youm
Meaning: The Ancient of Days
Bible Verse: Daniel 7:9 (NKJV) – "I watched till thrones were put in place, And the Ancient of Days was seated; His garment was white as snow, And the hair of His head was like pure wool. His throne was a fiery flame, Its wheels a burning fire;"