In this post, we will be collating 10 mouth-watery Low-Carb Sushi Recipes to celebrate your special occasions such as easter celebration, xmas celebration, or valentine's day with friends, family, partner, or even with colleagues in the office.
10 Low-Carb Sushi Recipes
When you talk about keto recipe and you mention keto sushi, then you start wondering if every food on the planet has a keto version. Just as we have keto bread recipes, keto eggs recipes, slow cooker low carb recipes, low carb shrimps as well as avocado low carb cookies, same goes for a sushi keto recipe.
First of all, you wonder is sushi is actually keto friendly since it contains rice which is rich in carb. After further research, I discovered that there are many ways you can make a low carb sushi recipe without the need for rice which obviously makes it a paleo sushi too.
Making a low-carb sushi recipe is certainly a challenging task, as the choices are very much limited. So if you are up for the task, then lets dive ahead and see which of these delicious Low-Carb Sushi Recipes, sushi rice, homemade sushi recipes you can make with ease.
1. Keto Sushi By Ruled.me
This keto sushi made by Ruled.me is made with a combination of cauliflower rice, unseasoned rice vinegar, avocado and fresh seafood, in addition to few other ingredients. One key tip as mentioned by the maker is to not over process the cauliflower rice as it will become more pasty like rather than having some rice texture. Use a bamboo roller to roll the sushi and keep it tight.
Get the full keto sushi recipe by ruled.me here
2. Low-Carb Cauliflower Sushi
This Low-Carb Cauliflower Sushi recipe by Ditch The Carbs is certainly the perfect replacement of the regular sushi for fitness or weight loss lovers. The beauty of this recipe is that the maker prepared the whole sushi without the need for cooking (zero cooking). The cooker has chosen to use a high starch rice due to its stickiness which helps to hold all the ingredients together.
Get the full low carb cauliflower sushi recipe here
3. Cucumber Sushi Rolls
This low carb cucumber sushi roll by Tasteaholics is is a great alternative to the keto friendly cauliflower rice. Using cucumber in-place of cauliflower is to give those who do not like cauliflower something else to choose from.
So using cucumber instead of the cauliflower rice will give you an incredibly refreshing feeling. As the popular saying in ancient japanese "ditch the rice and wrap it in cucumber!". To prepare the cucumber, you will need only a knife and some patience to get the cucumber cut right.
Other ingredients required or used by the maker includes raw tuna, shrimp, as well as avocado with spicy mayo and scallion/green onion.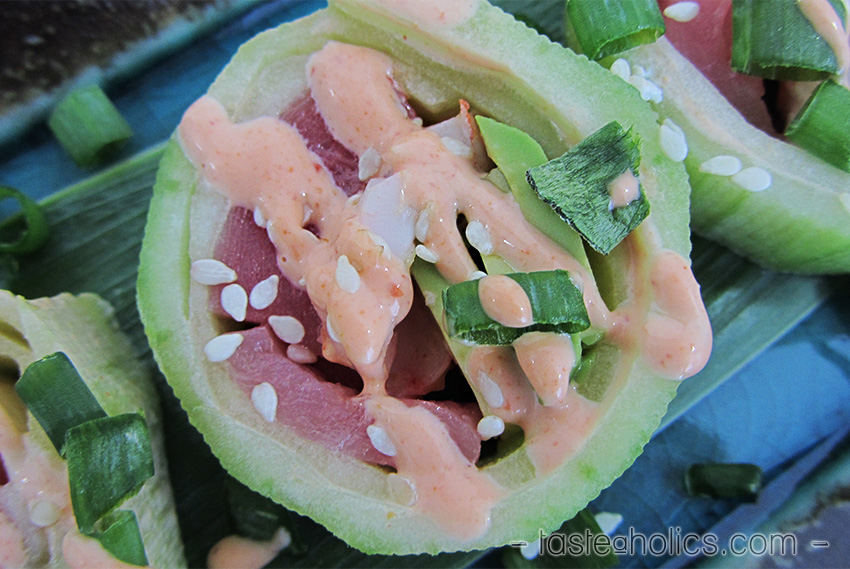 Get the full cucumber sushi rolls recipe here
4. Rice Free Keto Sushi
Rice free keto sushi from The Keto Cookbook, just as the name suggest is one of many Japanese sushi that is made completely free of rice. So you may be wondering how is that possible and can it made to be as attractive and edible as the traditional sushi. The traditional sushi from Japan is typically made of rice with some seafood and as we know sushi is one of the most popular dish in the world and readily available in UK and US.
This version of the sushi recipe will only take you about 25 minutes to prepare for at least 2 people. Key ingredients used includes avocado, salmon pate, cucumber and of course seafood.
Get the full rice free keto sushi here
5. Low Carb Sushi Rolls
The low-carb sushi recipes rolls by Diet Doctor has been made so easy that it will take you about 15 – 20 mins to both prepare and put together this sushi. This should serve about 4 people. Key ingredients used includes cauliflower, vinegar rice, salt to taste and a host of fillings to make it the complete keto sushi (low-carb sushi recipes).
There are varieties of fillings you can add to the sushi roll, this is only limited to your creativity. Some suggested fillings includes shrimps, omelet, tuna fish, crab, tofu, carrot, lettuce etc.
Get the full low carb sushi rolls recipe here
6. Ketogenic Sushi Rolls
This ketogenic sushi roll recipe by Ketoconnect is a spin on the california roll, made with creamy cheese, avocado as well as cucumber. This combination gives it a creamy, high fat recipe. In the event that you do not have a sushi bambo mat, then you can replace that with a simple plastic wrap to form the roll. Both the preparation time and cook time will take about 20 minutes to complete.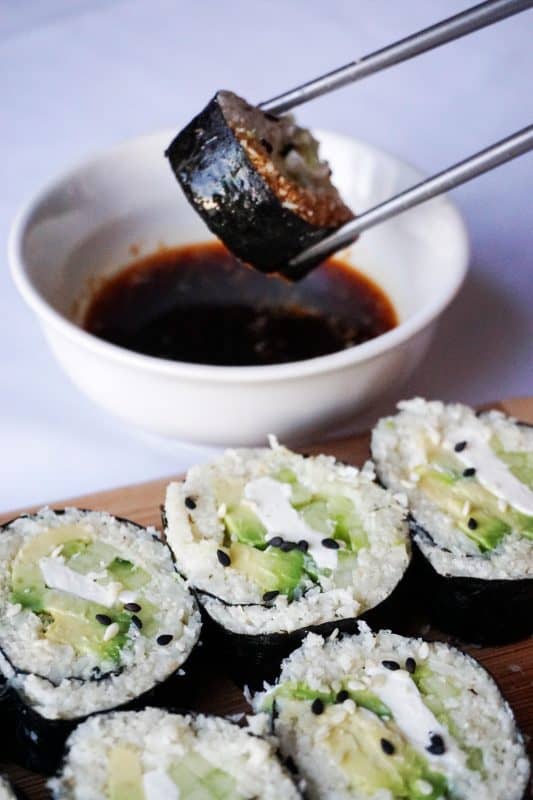 Get the full ketogenic sushi rolls recipe here
7. Cauliflower Rice Spicy Tuna Rolls
If you are looking for Paleo sushi alternative, then check out the Cauliflower Rice Spicy Tuna Rolls by Wicked Spatula. If you love spicy dish, then you won't want to miss out on this dish. This ingredients used for this recipe includes tuna, cucumber as well as avocado and pickled ginger. When sourcing for tuna, you will want to find the sushi grade tuna, and having it frozen helps to kill the parasites that may be contained in the meat.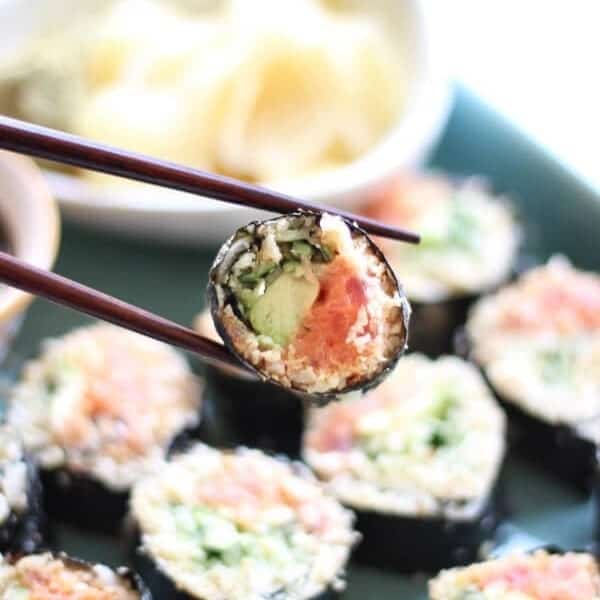 Get the full cauliflower rice spicy tuna sushi rolls recipe here
8. Keto Sushi – California Rolls
This low carb California Roll by All Day I Dream About Food contains cauliflower rice, thinly sliced cucumber, as well as fresh avocado. This recipe is unique in its own rights, its healthy and the right appetizer or snack for sushi lovers. This sushi recipe finishing is something to behold your eyes upon.
Get the full keto sushi california rolls recipe here
9. Low Carb Bacon Sushi
The low carb bacon sushi recipe from Keto Recipes is no different from other sushi recipes out there but with the exception of the bacon wraps used instead of the keto friendly cucumber of sushi bambo mat.
If you are new to sushi and fins yourself unable to roll the sushi properly, then try out Sushezi Roller Kit from amazon (see link and image below). They are easy to use and very comfortable, and the end sushi wrap looks perfect.
Get the full low carb bacon sushi recipe here
10. Spicy Salmon Roll – Whole30 Sushi
The Spicy salmon roll whole30 sushi by 40 Aprons is another mouth watery sushi that is keto friendly with no grains or sugar. The whole30 sushi is made with seasoned cauliflower rice, and rolled using a sushi maker in place of bamboo rolling mat. To give it the spicy taste you crave for, use sriracha source along side mayo.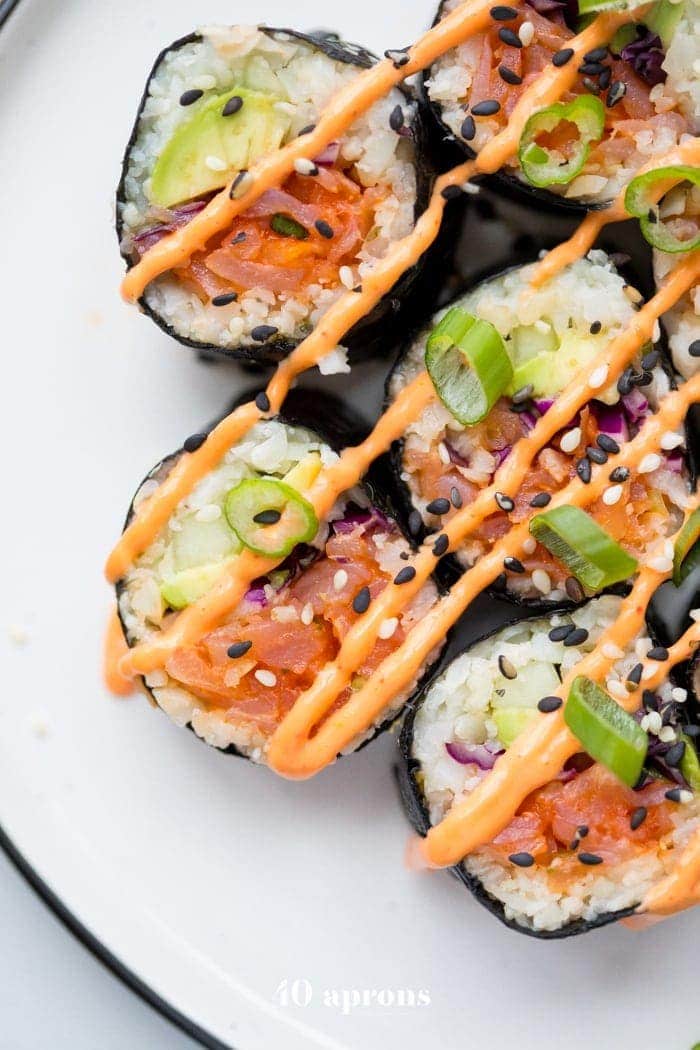 Get the full Spicy Salmon Roll – Whole30 Sushi recipe here
FAQs About Low Carbs Sushi
What sushi has the lowest carbs?
These low-carb sushi recipes have low carbs:
Smoked Salmon Rolls with Avocado, Cucumbers, and Red Onions
Quick Nori Rolls with Cucumber and Avocado
Paleo No Rice Spicy Tuna Hand Rolls
Low-Carb Sushi Rolls with Smoked Salmon and Avocado
Cauliflower Rice Spicy Tuna Rolls
Cucumber Wrapped Sushi
Naruto Cucumber Rolls
Tuna Salad Nori Wraps
How many carbs are in a sushi roll?
A majority of sushi rolls comprise of 3-4 ounces of white rice per each roll which amounts to about 240 calories and 48 grams of carbs depending on the size of each roll.
Is Sushi Healthy for Weight Loss?
Low-carb Sushi Recipes are typically regarded as weight loss friendly recipes since its made up of good ratio of carbs and fats. Some sushi's do contain high amount of protein, omega 3 and glutamine which are a good source of muscle building.
What can I use in sushi instead of rice?
If you are on a low carb diet plan, then consider replacing susi rice with cauliflower rice. Using cauliflower rice to prepare your sushi with shellfish, or meat would give you a protein rich sushi while maintaining low carbs.
In the coming days, as we come across new and easy way of making a keto friendly sushi recipe, we will continue to add them here.