In this post, we will be showing you 10+ simple yummy keto egg recipes that you can add into your diet plan to help lose weight.
Keto Egg Recipes
Due to eggs been high in protein and lots of nutritious value, no wonder they are part of our daily diet to help us lose weight, lose fat. Eggs are affordable, easy to cook for the whole family. Some of my favorite keto egg dish ranges from omelettes, to muffins as well as part of a delicious salad meal.
According to registered nutritionist "Jo Lewin, RNutr", "Eggs are rich in several nutrients that promote heart health such as betaine and choline.". In addition, registered dietitian "McKel Hill, RDN" also said "eggs offer a good dose of protein and fat first thing in the morning".
NUTRITIONAL VALUE OF EGG
Eggs are top of the nutritional food chain on the planet. They contain little bits of almost every nutrient you can think of.
They are high in cholesterol, but eating eggs by majority of humans does not adversely affect cholesterol in their blood.
Eggs due to its elevated levels of HDL – the good cholesterol, is linked to a lower risk of many diseases.
Eggs are known best dietary sources of choline, an important nutrient in human body.
Studies shows consumption of eggs does appear to change the pattern of LDL particles in the body from a small quantity of dense LDL (bad) to large LDL. This is linked to a reduced risk of a heart disease.
Eggs are high on both lutein and zeaxanthin, an important antioxidants for the eyes and also help prevent macular degeneration and cataracts.
Since eggs are rich in mega-3 fatty acids, they can help reduce blood triglycerides.
Furthermore, eggs contains essential amino acids needed in human body.
Regularly eating eggs may promote weight loss.
#1 Keto McMuffin Sausage & Egg Breakfast Sandwich
If you are looking for a low carb or keto diet recipe that would help you get into ketosis, then this recipe is the perfect meal you want to try your hands on. its low in carbs and high in healthy fats.
Get how to make Keto McMuffin Sausage & Egg Breakfast Sandwich recipe here
#2 Avocado Bacon and Eggs
When it comes to having avocado in a recipe, then expect that recipe to be mouth-watery and delicious. Having avocado alongside egg, cheese and bacon makes it even more appealing and you can't wait to try it.
Get how to make Avocado Bacon and Eggs recipe here
#3 Keto Egg Wraps
Keto egg wrap from Forkly is an easy to make recipe which requires you to prepare the egg like a thin omelet that can be rolled up. This recipe comes with cheese, bacon as well as sausages for a perfectly combined meal.
Get how to make Keto Egg Wraps recipe here
#4 Starbucks Inspired Egg Bites
Have you come across Starbucks Sous Vide Egg Bites recipe and you wondering how they made this deliciously looking low-carb breakfast recipe. This is your chance to try this recipe out at home.
Get how to make Starbucks Inspired Egg Bites recipe here
#5 Guacamole Topped Scrambled Eggs
Are you looking for a quick, easy to make egg meal for your morning breakfast, especially if you are running out of time. Guacamole Topped Scrambled Eggs is one of many egg recipes that requires less time to make and tasty as well. If you don't already know, Guacamole is an avocado based dip, spread, and its nutritional value includes vitamins, minerals and fats as well as potassium in significant content.
Get how to make Guacamole Topped Scrambled Eggs here
#6 Low Carb Cheesy Ham Hash Egg Cups
Cheesy Ham Hash Egg Cups from I Breathe I'm Hungry is another stunning looking keto recipe, made from a combination of left over hams, with fresh parsley, black pepper source, some garlic powder, parmesan cheese, as well as almond flour, and eggs. This meal finishing is something you want to check out and try your hands on.
Get how to make Low Carb Cheesy Ham Hash Egg Cups recipe here
#7 Keto Paleo Scotch Eggs
Scotch Eggs are a household egg recipe that everyone must have at some point in their life eaten for breakfast, or even launch especially if you eat less. Paleo scotch eggs are very easy to make, and affordable. Compared to the traditional scotch eggs which are typically made by rolling eggs in breadcrumbs, paleo scotch egg from Ditch The Carbs are simply eggs with meat as well as a few herbs to taste.
Get how to make Low Carb Paleo Scotch Eggs recipe here
#8 Keto Poached Eggs
Poached eggs are one of my favorite eggs since I eat them on a daily basis in the office for my breakfast. Not many people love poached eggs since the egg york appears to scare them but when you get to eating them, you will love them. They are easy to make and from experience they go very well with bake beans, mushroom, and ham to taste. Now lets checkout more on how you get make this recipe by Savory Lotus.
Get how to make Low Carb Keto Poached Eggs here
#9 Pizza Eggs – Low, Carb, Keto, Gluten Free
Who doesn't like or love egg omelette? I have tried various omelette from different part of the world and I thought its time to also give the Italian version a try. This recipe also from Peace, Love and Low Carb has proven to be low in carbs, delicious and overall easy to prepare for your morning breakfast if you are in a hurry.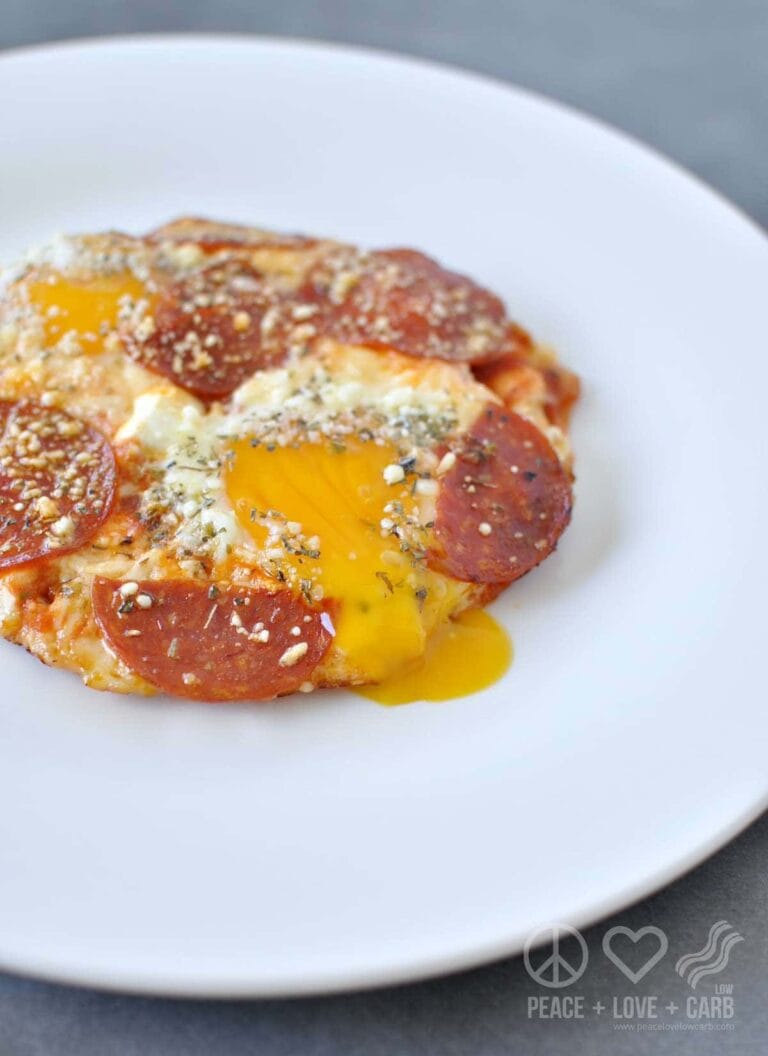 Get how to make Pizza Eggs – Low, Carb, Keto, Gluten Free recipe here
#10 Bacon and Olive Quiche recipe is Keto and Paleo
If you are looking for the perfect brunch, lunch, dinner or even as a snack egg meal, then checkout Bacon and Olive Quiche recipe is Keto and Paleo by Lisa from Cook Eat Paleo. This is more of an Italian cuisine with a combination of coconut oil extract, spinach leafs, and a host of other seasoning ingredients. This is an ideal recipe for the whole family to enjoy with.
Get how to make Bacon and Olive Quiche recipe here