Table of Content
In this post, we will be looking at some of the best athletic motivational quotes, best sports quotes, inspirational christian athlete quotes.
Motivating yourself can be easy for some people, but what if you need to motivate other people. Motivation can come in many forms. Perhaps you are a fitness instructor and need to get someone motivated in sports and fitness, or maybe you are thinking of your health and fitness and need someone to motivate you into fitness. My job with this post is to help motivate such persons, and sometimes one of the easiest ways is by famous sports motivational quotes.
Follow us for more sports and fitness quotes:
Motivation is one of the reasons why we engage in sports and well being. Everyone is different hence the reason we respond differently to motivation. Some are self-motivated, meaning they can get themselves motivated without the need of others. Others rely on others to be motivated; a good example is seeing a models physic or a bodybuilder with six-packs.
What to say to motivate an athlete?
I've missed more than 9000 shots in my career. I've lost almost 300 games. 26 times, I've been trusted to take the game winning shot and missed. I've failed over and over and over again in my life. And that is why I succeed. – Michael Jordan
What does God say about athletics?
What the bible says about athletics can be found in 2 Timothy 2:5 – Similarly, anyone who competes as an athlete does not receive the victor's crown except by competing according to the rules.
Inspirational Christian Athlete Quotes
1. I'd like to thank God for changing my life. – Kevin Durant
2. I'm not going to give in to my fears or past memories. – Sanya Richards-Ross
3. Philippians 1:21 is very special to me because it helps to keep my life centered. – Allyson Felix
4. I never have prayed to win a gold medal at Olympics and never will. The Lord is my Shepard and I shall not want. May His will be done. – Lolo Jones
5. Today the pastor talked about not just being a fan of Christ but being a true follower. The message hit home. – Jon Jones
6. You and I were created by God to be so much more than normal. Following the crowd is not a winning approach to life. In the end it's a loser's game, because we never become who God created us to be by trying to be like everybody else. – Tim Tebow
7. Following Christ is a daily thing. – Mike Fisher
8. I'm not concerned with your liking or disliking me. All I ask is that you respect me as a human being. – Jackie Robinson
9. We pray everyday. We read the bible everyday, so everybody's happy. – Manny Pacquiao
10. I listen to a lot of Christian music, and reading my Bible calms me down immensely. – Lolo Jones
11. Everything starts with God in my career, and it will finish with God. – Mariano Rivera
12. From the sense of being an ambassador for Jesus Christ, hopefully, through my story and through all the improbables and the miracles that happened in my life, people are inspired or at least a little bit warmer to the idea of exploring who Jesus is. – Jeremy Lin
13. The most important lesson that I have learned is to trust God in every circumstance. Lots of times we go through different trials and following God's plan seems like it doesn't make any sense at all. God is always in control and he will never leave us. – Allyson Felix
14. I give all the glory to God. It's kind of a win-win situation. The glory goes up to Him and the blessings fall down on me. Gabby Douglas
15. Because we call ourselves Christians, our actions need to reflect Christ. – Clayton Kershaw
16. If I didn't work as hard as I could, then I think it would be a bit like saying, God, thanks for giving me this ability, but I don't really care about it. I'm going to do something else, and I'm not going to work quite as hard. – Tim Tebow
17. When people criticize you, it's not always for your actions but for what you represent. If they're really criticizing you for your faith, it's important to maintain your focus and continue on the pathway that God has set before you, even in the midst of criticism. – Tony Dungy
18. I thank God for all the victories and conquests I've had this year as a player and I bring to the altar two prizes. This is first my son who is about to be born. The other is my trophy from Fifa, which I want to dedicate to God. – Ricardo Kaka
19. The source of my power and strength is God, and I know it, without a shadow of a doubt. – Derek Fisher
20. Having nerves and feeling the pressure just gets you focused and gets your concentration level where it needs to be. I harness that nervous energy into a positive way. – Tom Lehman
Athletic Motivational Quotes
The Green Bay Packers never lost a football game. They just ran out of time. – Vince Lombardi
Never let the fear of striking out get in your way. – George Herman "Babe" Ruth
If you don't invest very much, then defeat doesn't hurt very much and winning is not very exciting. – Dick Vermeil
The spirit, the will to win, and the will to excel are the things that endure. These qualities are so much more important than the events that occur. – Vince Lombardi
The highest compliment that you can pay me is to say that I work hard every day, that I never dog it. – Wayne Gretzky Canadian Hockey Player
How do you Inspire Athletes?
Don't give up at half-time. Concentrate on winning the second half. – Coach Paul "Bear" Bryant
The difference between the impossible and the possible lies in a man's determination. – Tommy Lasorda
Don't let what you cannot do interfere with what you can do. – John Wooden
It's not whether you get knocked down; it's whether you get back up. – Vince Lombardi
I learned that the only way you are going to get anywhere in life is to work hard at it. Whether you're a musician, a writer, an athlete or a businessman, there is no getting around it. If you do, you'll win if you don't, you won't. – Bruce Jenner, Olympic Gold Medalist, Decathlon
Sports Good Quotes
The most important key to achieving great success is to decide upon your goal and launch, get started, take action, move. – John Wooden
There are only two options regarding commitment; you're either in or you're out. There's no such thing as life in-between. – Pat Riley
Be more concerned with your character than with your reputation.Your character is what you really are while your reputation is merely what others think you are. – John Wooden
Some people say I have attitude, maybe I do but I think you have to. You have to believe in yourself when no one else does, that makes you a winner right there. – Venus Williams
Nobody who ever gave his best regretted it. – George Halas 1895-1983, Pro Football Coach
How to Inspire Success
The real glory is being knocked to your knees and then coming back. That's real glory. – Vince Lombardi
The difference between a successful person and others is not a lack of strength, not a lack of knowledge, but rather in a lack of will. – Vincent T. Lombardi
Some people think football is a matter of life and death. I don't like that attitude. I can assure them it is much more serious than that. – Bill Shankly
It's hard to beat a person who never gives up
The sky has no limits. Neither should you. – Usain Bolt
I've never known a man worth his salt who in the long run, deep down in his heart, didn't appreciate the grind, the discipline. I firmly believe that any man's finest hour – this greatest fulfillment to all he holds dear is that moment when he has worked his heart out in a good cause and lies exhausted on the field of battle, victorious. – Vince Lombardi
The pain you feel today will be the strength you feel tomorrow
Set your goals high and don't stop till you get there
Sports do not build character. They reveal it.
You are the only one who can limit your greatness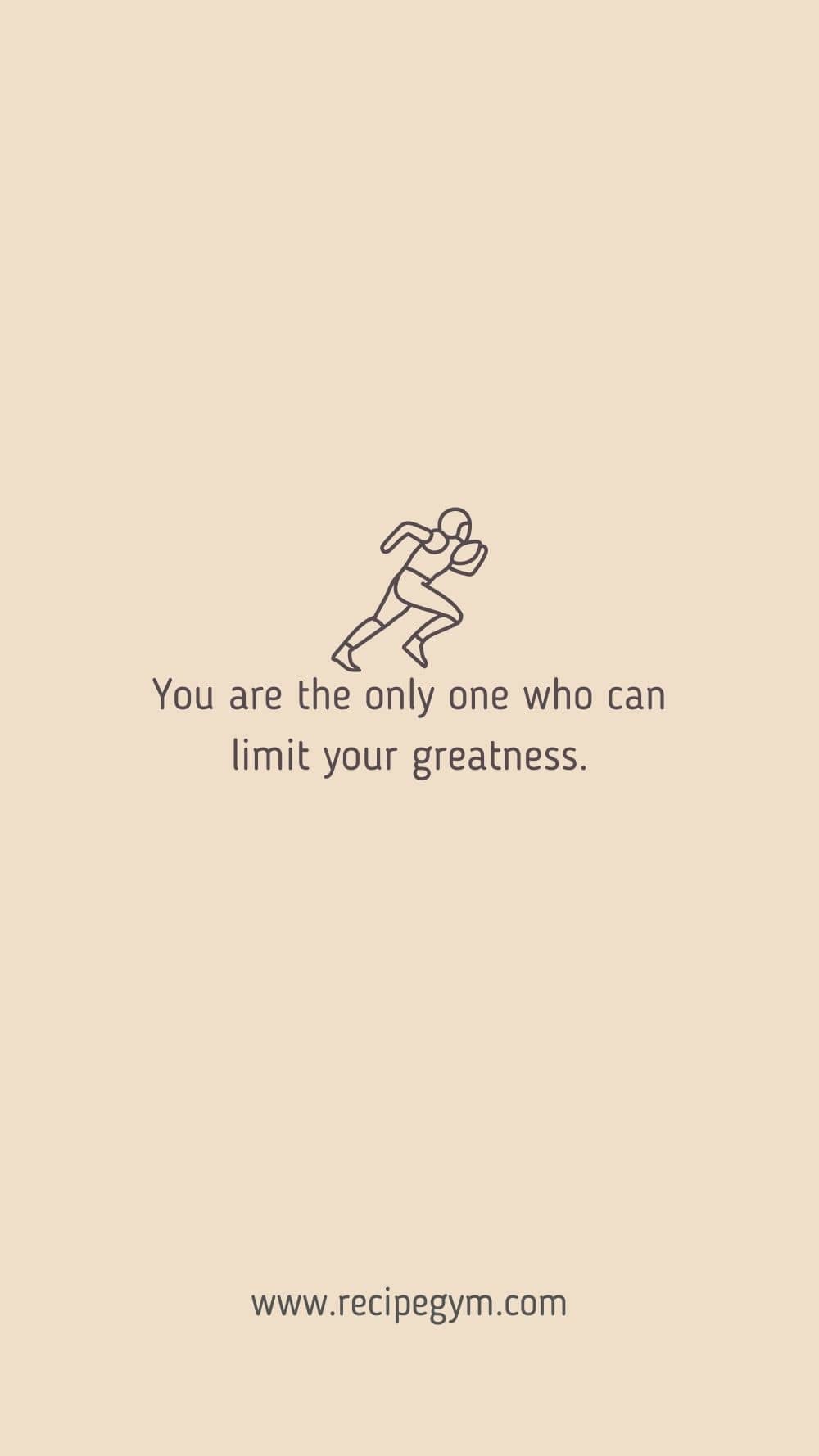 Hard work beats talent when talent fails to work hard
Success doesn't just come and find you, you have to go out and get it
If you can't outplay them, outwork them
Run when you can, walk if you have to, crawl if you must; just never give up
We hope you have been motivated by these powerful athletic motivational quotes, best sports quotes, inspirational christian athlete quotes from famous sports stars and personalities. Why not inspire someone you know that needs to be motivated by sharing this.