A look at the top 5 best fitness trackers for 2021
Regardless of how much you work out, a fitness tracker would be a smart choice for getting or staying in shape. A fitness tracker holds you responsible for your physical activities and exercises. A fitness tracker is an incredible device for monitoring your steps, sleep, strides, and more. These fitness trackers provide instructions and assist you in tracking your progress.
Selecting the best fitness tracker can be exhausting, stressful, time-consuming, and even tricky. There is a wide range of fitness trackers, including the most basic and advanced ones. So, how do you choose the right fitness tracker considering your lifestyle, fitness goals, needs, and preferences?
Even if you have no idea, you don't need to worry. This extensive and straightforward guide will help you choose the right fitness tracker.
Are fitness trackers worth it?
Yes, without any doubt. But you might be wondering why do people prefer having fitness trackers? The primary advantage is that these trackers motivate people to become more active. For some individuals, exercise becomes fun when they can track their progress in numbers, telling them how well they're doing. They get more inspired for hitting a particular target like 10,000 steps every day than for the unclear objective of being fit.
The intended purpose of fitness trackers is to encourage this sort of thought or goal. They send messages to applaud you when you meet an objective, giving you an inner self relief. You can also share these messages with your friends to tell them how these activities are involved in your life, which can be a great inspiration for them. For some individuals, this brings out the competitive instinct.
5 Best Fitness Trackers for 2021
1) Moov Now Multi-Sport Fitness Tracker & Audio Coach
This product is geared more towards guiding and coaching you as you do your exercises rather than just tracking your performance. It comes with a real-time audio coach for body-weight and cardio exercising. The coach is great for both ends of the spectrum:
It will "force" your butt off the couch and motivate you to get moving
It will also work with hardcore fitness enthusiasts challenging them to push even further
Its tracking capabilities analyze and keep track of all your physical activity in real-time via your mobile phone.
MOOV tracker is very user-friendly. You can attach it to your wrist or around your ankle and, after a while, you will forget it's even there. The Moov Coach & Guided Workouts downloadable app offers you the followings:
Running and Walking will help you learn more about proper running pace, technique, and cadence.
Swimming measures your stroke, lap times, rest, and turn breakdowns.
Cardio boxing features choreographic boxing exercises and tutorials to help you get the most out of your workout.
Cycling will track your distance, speed, cadence, and elevation.
Try out the Seven-minute workout plan published in the American College of Sports and Medicine Journal. The researchers suggest that long runs' health benefits can be achieved with just a few minutes of intense exercise. You can give it a go and let us know if it worked for you!
2) Fitbit Charge 4 Advanced Fitness Tracker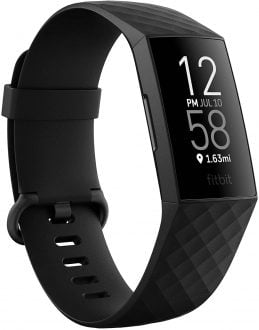 When you mention Fitbit, then you know things are getting a lot more serious. Fitbit is one of the leading companies responsible for some of the best fitness trackers on the market today.
Fitbit Charge 4 Advanced Fitness Tracker is the latest in Fitbit fitness trackers' arsenals. Charge 4 offers a lot more functionality than its more expensive counterparts.
MEMS 3-Axis Accelerometer – tracks steps taken and total distance
Altimeter – tracks stairs climbed
Make purchases at multiple stores or transit stations
The automatic sleep feature monitors when and how long you have slept and automatically gauges your sleep quality
Get your this activity tracker will not only monitor when and how long you sleep
With its OLED display, you can get notifications for calls, text messages, and calendar when you get close to your smartphone
If you are serious about weight loss and want to keep track of your daily caloric intake, the Fitbit app offers an exciting food tracking ability. You can input various foods, calculate how many calories you ate throughout the day, and modify your exercise accordingly.
Fitbit Charge 4 is probably one of the best activity trackers for mid-range, affordable models.
3) Garmin Forerunner 945
Garmin Forerunner 945 smartwatch is a more pricey Garmin fitness smartwatch and a top-range activity tracker for professional athletes. It is the most well-equipped and most multi-sport oriented watch on the market. It can track multiple sport disciplines, including outdoor running, indoor running, swimming, cycling, and triathlon.
With GPS, it has a map that maps your track route challenging environment
The running dynamics tracks running metrics such as ground contact, log vertical oscillations, cadence, and many more
Keeps track of your heart rate and send alert if too high or too low
Helps gauge how hard you work underwater
Keeps track of your recent training history and shows your performance to see how well you have been doing
4) Garmin Vivosmart 4 Smart Activity Tracker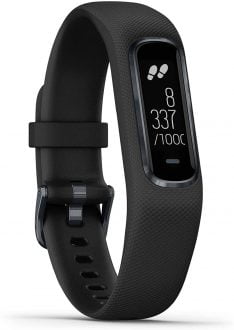 I don't see many fitness tracker reviews mentioning Garmin Vivosmart 4. Still, this piece of hardware does everything one would expect from a fitness tracker. Its stylish, smart design is also a bit of a smartwatch as it shows you emails, your text messages, including social media alerts and incoming calls.
Vivosmart 4 monitors your steps – walking, running, yoga, swimming, etc.
The number of calories you burn
Advanced sleep monitoring
Features a move bar, which shows you how long you have been inactive. It sends a vibration alert to let you know it's time to get moving.
It's water-resistant up to 50 meters
You can wear it 24/7
It's sleek finish and finishing makes it very comfortable to wear on your wrist. Even though the device itself does not have buttons, its touch-activated screen makes it a lot more convenient.
5) Garmin Forerunner 45 GPS Running Watch with Garmin Coach Training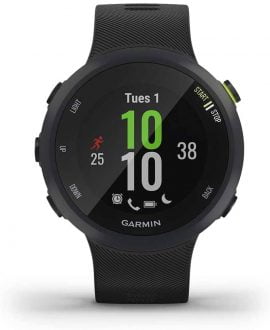 An excellent professional fitness tracker may not usually be that expensive or cost you a ton of money. A perfect example is the sleek, lightweight Garmin Forerunner 45S small-sized GPS running watch. One of Garmin Forerunner's best features is its user-friendliness. The screen of the device is relatively large – one glance will give you all the info you need.
Monitors your heartbeat rate at the wrist
The built-in GPS tracks your pace, distance movement, and more with precise accuracy.
It comes with adaptive training plans
Its smart notification alerts you of missed texts
Also has a built-in incident detection and assistance feature
Seven days of battery life is top-notch
How do I choose the right fitness tracker?
Choosing the right fitness trackers can be an exhausting task. There are a lot of brands with different price ranges to select from. Luckily, you can use these essential vital points mentioned below to narrow down your choice.
Essential features
Each fitness tracker usually has certain standard features. The first choice to make is whether you need a watch, band, or clip-on device. Usually, you can wear fitness trackers for a whole day to track your body and its progress continually. Wrist-bands and watches look cool as accessories. Numerous designed fitness trackers come in different styles and colors that make them customized for you. Clip-on is more tactful and can be set anywhere on your dress.
Wireless synchronizing plays a significant role in selecting the right tracker. For comfort, the fitness tracker should synchronize with your PC, laptop, or application, so your body improvements are updated for reference, saving you time.
All fitness trackers are compatible with multiple systems. The more compatibility your tracker provides, the more useful it will be. Consider whether your tracker accompanies a mobile application feature, so you can easily stay updated about your body changes or progress.
Extra features
If you have sleeping disorders, the sleep tracking feature can be very beneficial for you. The ability to measure your sleeping patterns like when you turn over, wake up, and even measure your body temperature like REM sleep are important factors regarding your sleep progress.
The best feature of fitness trackers is GPS for cyclists or runners. It's great to measure your speed and distance, and by using apps, you can easily track and compare your daily progress.
In case you're a swimmer, try to get a water-proof or functional tracker in water. A few trackers are water-proof but don't work in water.
How we choose our selection of fitness trackers?
There are a lot of fantastic fitness tracker options available. But we chose our top 10 based on form, price, features, and functions.
Numerous models of fitness trackers incorporate additional features, for example, sleep tracking, heart rate tracking, calorie consumption tracking, and much more. This information can be shared using an application to help you focus on your fitness goals even more.
Wrap up
Today, fitness trackers are so famous for many good reasons. They assist you in instructing exercises like swimming, cycling, or running and can also help you and your health care expert understand your medical conditions even better. An example, detecting irregular heart or pulse rates.
Now, you're all set to buy the right fitness tracker. So, what are you waiting for?